KPA/KPF Capital Campaign
For the past 30 years, the KPA central office has been renting space in the same location without building equity. Over that time our efforts to promote psychology and psychologists have expanded. This work is currently supported by both the Kentucky Psychological Association and Kentucky Psychological Foundation who share staff and work together to advance and improve mental health in Kentucky. (For more information on KPF, visit our newly updated website at https://www.kentuckypsychologicalfoundation.org)
Learn more about what our Capital Campaign is all about by watching these videos: 
Moving into space which we own will safeguard the financial health of KPA and KPF and ensure the well being of our staff who support all the work we do.  Our goal is to raise $50,000 from our wonderful psychology community to ensure our sustainability in our new office space.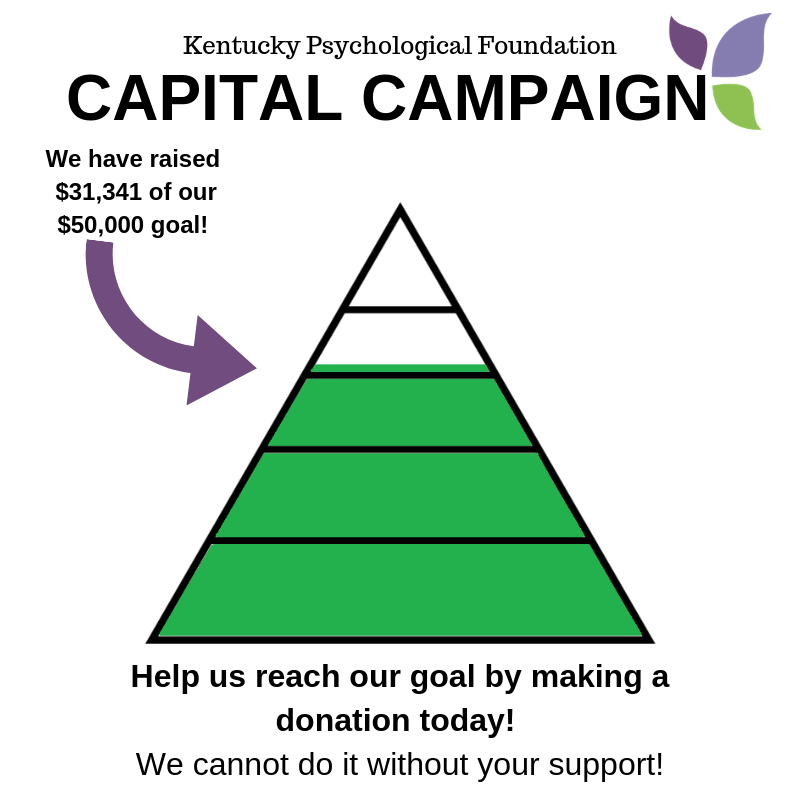 We have some exciting events planned over the next few months to give you plenty of opportunities to contribute! Watch your email for further announcements!
Donations of any amount will help us toward reaching our goal.  No contribution is too small to be helpful!  However, if your current situation puts you in the fortunate position of being able to consider making a substantial donation, please consider doing so. Our suggested pledge levels are below (Insert attached levels).
Self-Actualization $2500+ (Gold Leaf)
Esteem $1000 (Silver Leaf)
Love and Belongingness Needs $500 (Bronze Leaf)
Safety Needs $200
Physiological Needs $100
All donations are fully tax-deductible and will go to the Kentucky Psychological Foundation, a 501(c)(3) organization. Names of donors who are able to donate above $500 will be included in artwork in the new space.
If you have questions about the capital campaign or want to discuss a large donation please email or call the Chair of our Capital Campaign Committee, Eric Russ, at [email protected] or 404-290-7916.  
Why are we raising money if we've already moved?
The Boards of both KPA and KPF have been discussing the need for new office space and considering buying space for some time.  Our old office was in serious disrepair, to the point that the well-being of the staff was being affected.  When looking for new rental space, it was quickly apparent that if we continued renting, we would be facing significantly escalating rents…without building any equity.   The opportunity to move into a new space, invest now, taking advantage of low-interest rates while building equity was too good to pass up. We were able to move into new construction, and build to our specifications 
The opportunity to invest now, taking advantage of low-interest rates while building equity was too good to pass up.
We purchased the office condo for $210,000 and were able to draw on our reserves to put $45,000 down at closing.  We worked to structure our loan such that we can add additional money to that down payment during an interest-only payment period for the next 12 months.  Our goal for this Capital Campaign to provide an additional $45,000 toward the down payment.  The remaining $5,000 of our fundraising goal will replenish KPA/KPF reserves, fund KPF operations, and allow for the start of a reserve fund to meet future needs. 
This Capital Campaign is an opportunity for all of us to invest in the future of KPA and KPF! Thanks for reading, and we will look forward to seeing you over the next several months!